How we prototype
At PROTOTYPUM everything we pursue is governed by one common team vision – to create and participate in the development of sustainable products that enhance the quality of life around us. From our mastery in designing and prototyping high-quality products comes our name, PROTOTYPUM.
Prototyping and testing is the key part of our development process for any new product. During the testing phase, we uncover and fine-tune problems connected with engineering, manufacturing technique or product usage.
PROTOTYPING IN PROTOTYPUM
During the design process, we produce a countless number of mock-ups and functional prototypes.
We use knowledge from traditional model making, 3D printing and we combine these with other accessible techniques.
Prototypes are tested and iterated, we check everything twice, three times, even one hundred times – mistakes always move us forward.
We advise you, how to use the findings from testing to engineering to production.
We approach each project individually – we always try to come up with the best possible solution for a given technology, material and the number of produced parts.
About our workshop
We have a workshop directly in our studio where we are able to build most of the mockups and prototypes. We continuously invest in new machines and tools to make our workshop better.
We combine several different techniques according to the requirements and quality of craftsmanship of the final prototype.
We cannot imagine our work without 3D printers. It rapidly speeds up the design and prototyping process. Ideas are validated fast.
Besides 3D printing, we use traditional model making, mock-ups from plastic, foam, wood and other materials.
In cooperation with our partners, we are able to deliver precise machine milling, metal casting, and metal 3D printing.
PROCESS: PROTOTYPE, TEST, ITERATE
design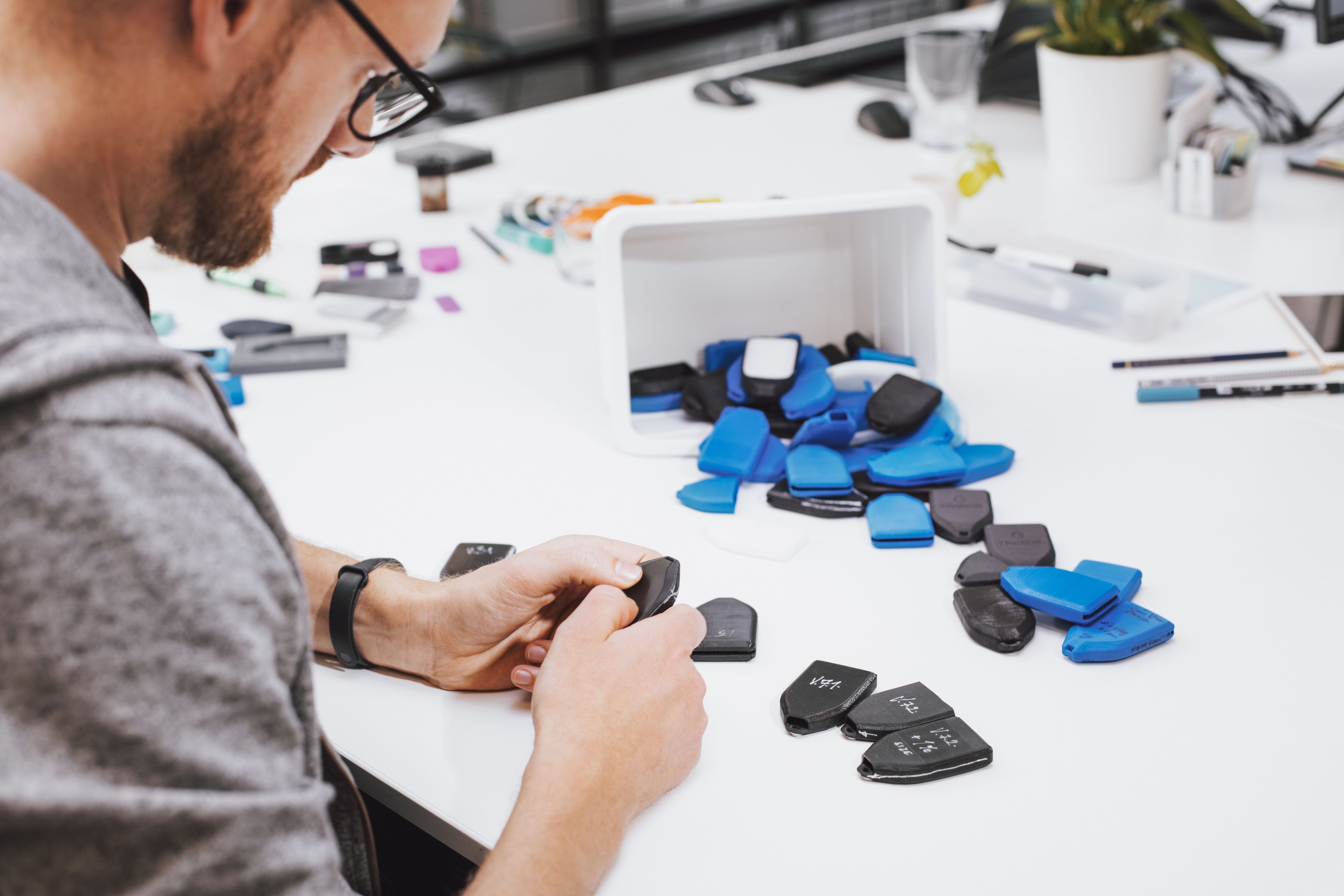 Prototype
Test
Why Prototype?
We strongly emphasise materializing our ideas from the very beginning of the design process, we verify the proportions and basic shapes.
What looks perfect on a computer may not work after first testing.
The first mock-ups help us to clarify the proportions, component relationships, and various details.
In a short time, it is possible to reveal the shortcomings of the proposed design before proceeding to mass production.
The goal of testing is to collect as much relevant information as possible and then redesign the component and re-test it on a functional model.
The whole process leads to the acceleration of new product development.
Next step
Materialise and idea validation
Being able to touch the design and test the individual functional parts is the essence of prototyping from serial materials. Without a functional prototype, we would not have relevant test results.
For prototyping, we use surface CAD data of concepts and we prepare data to produce functional prototypes.
We make prototypes from very similar or directly from serial materials.
To evaluate, touch, test, is the main goal of producing functional prototypes.
Next step
What is a mock-up?
Mock-up – a physical model of the proposed product for the very first evaluation of design concept. Functional and mechanical properties cannot be expected from this mock-up.
The mock-up is often made of substitute materials: using 3D printing, casting, gluing, cutting or milling.
The essense of the mock-up is the use of substitute material to evaluate the design at a low cost.
We use 3D printing to a large extent, mock-ups are thus ready in a few hours.
After verifying the design or its parts thanks to mock-ups, we proceed to elaborate the product to greater detail.
Next step
What is a prototype?
A functional prototype – unlike a mock-up, is a real form of the proposed product, including its basic mechanical properties.
Mechanical properties are essential for functional prototypes.
We strive to use serial technologies and materials to achieve the most realistic properties of the prototype.
Prototypes are used to evaluate the proper function, selection of serial material and its surface treatment.
Next step
TESTING
We are not infallible or perfect. Ideas that work on paper or on the computer may not work in reality when in daily use. Therefore, testing at every stage of development is crucial for us.
A "looks like" mock-up/prototype is used for the first round of evaluation of design concept or for the presentation of proposals to investors.
A "works like" prototype is used to test individual mechanical properties of designs on the most accurate possible prototype, which is then iterated for further changes and development.
A "feels like" prototype is often used in finalizing or moving towards mass production, the goal is to fine-tune and test the surface properties of selected materials.
Next step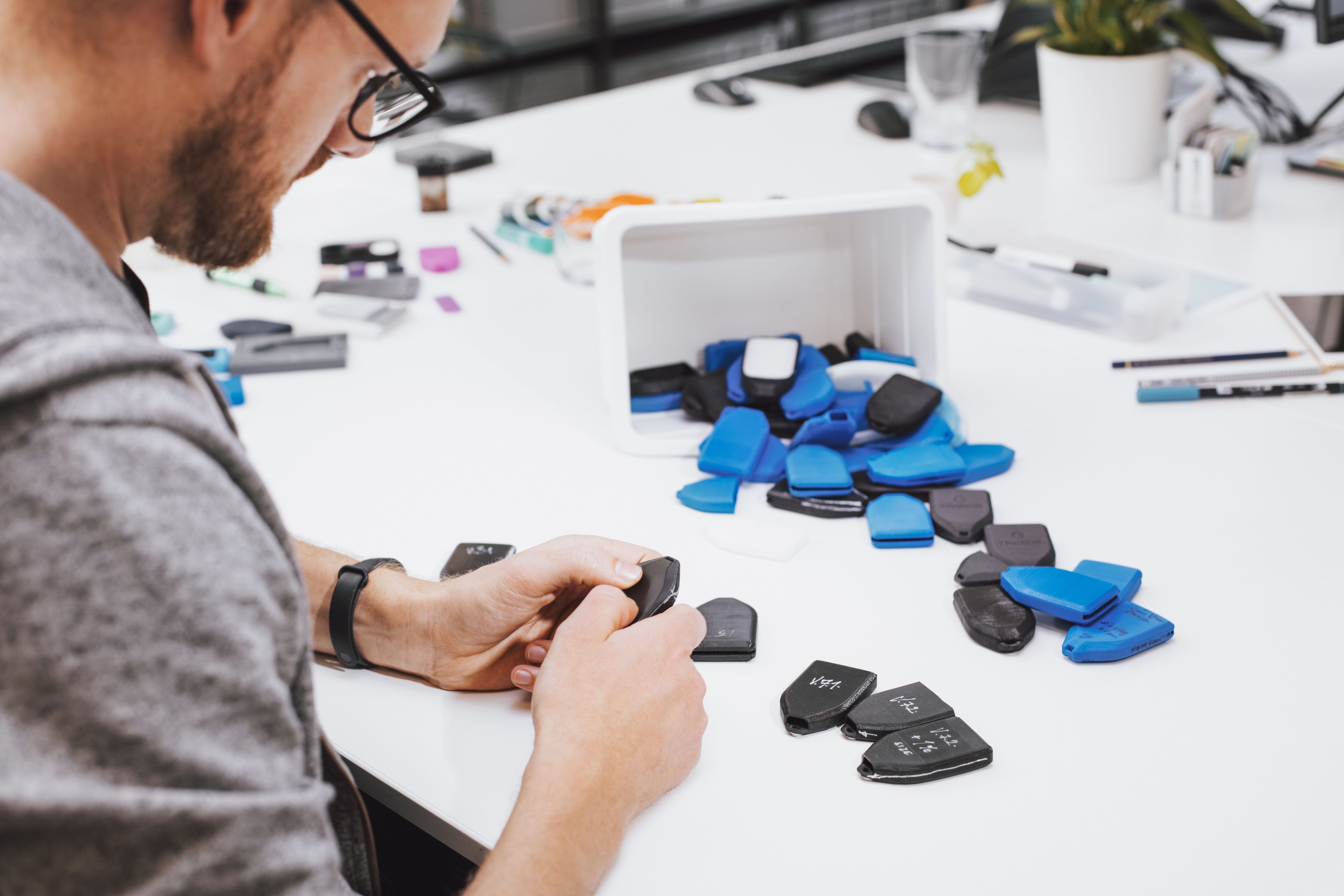 Results from testing and iterations
After evaluating the test results, the individual parts of the product or its components are gradually adjusted.
The test results fundamentally affect the next steps in product development.
We run our process in the form of iterations, we work on adjustments and we test again.
We often prepare additional material research if we find that the original material is unsatisfactory.
We test everything in the shortest possible time. The testing takes place in our studio or in partner test centers. We proceed to user testing.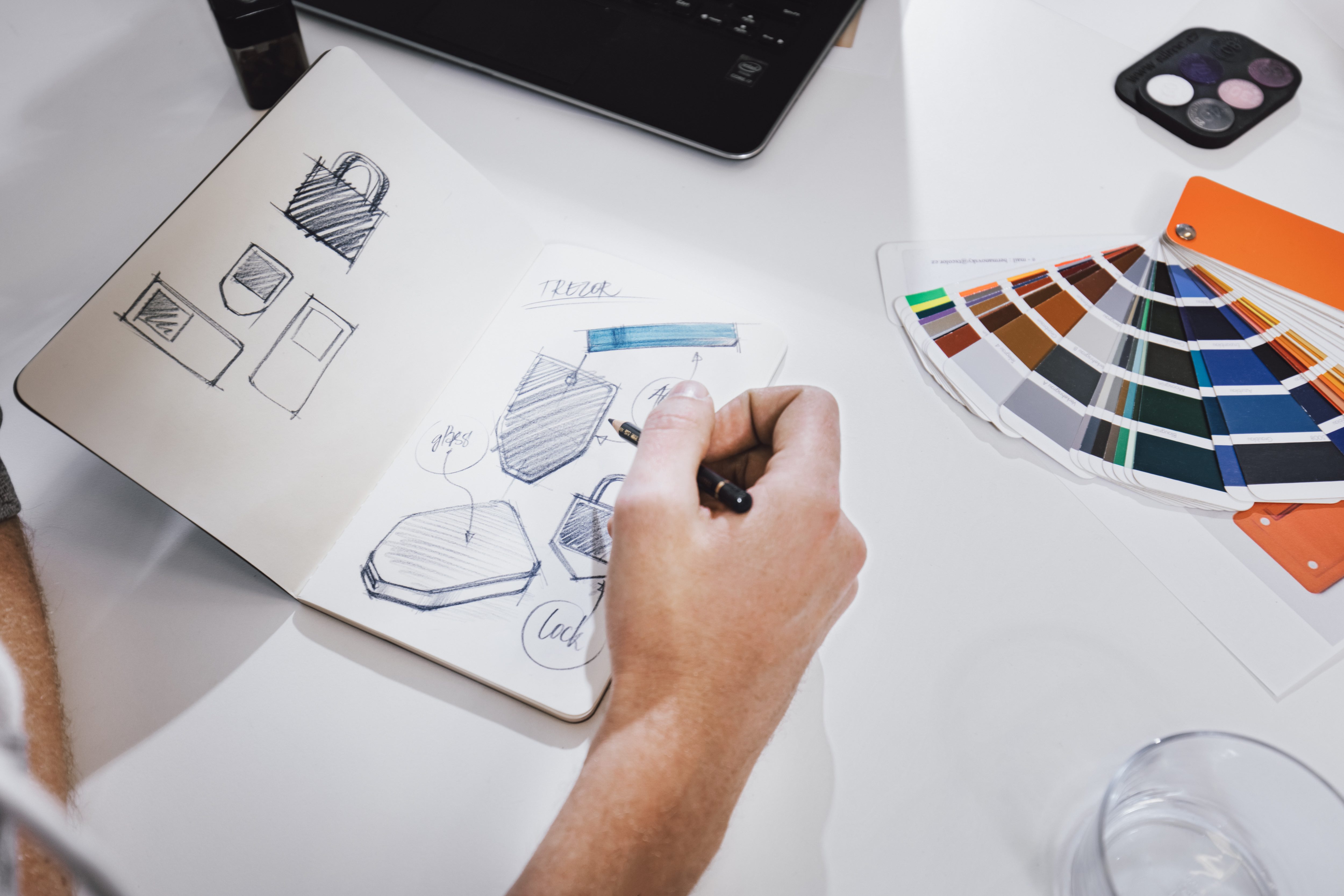 Industrial Design
Industrial design is about the balance of function, aesthetics, processing quality and optimal production process. We transfer ideas from simple paper sketches to reality. We define the materials and appropriate technologies because a good design is the basis of a quality product.
OUR WORK
Good ideas arise by addressing problems in a fresh way. We try to notice things that others don't. We find new methods, materials, and inspiration to bring ideas into the real world.